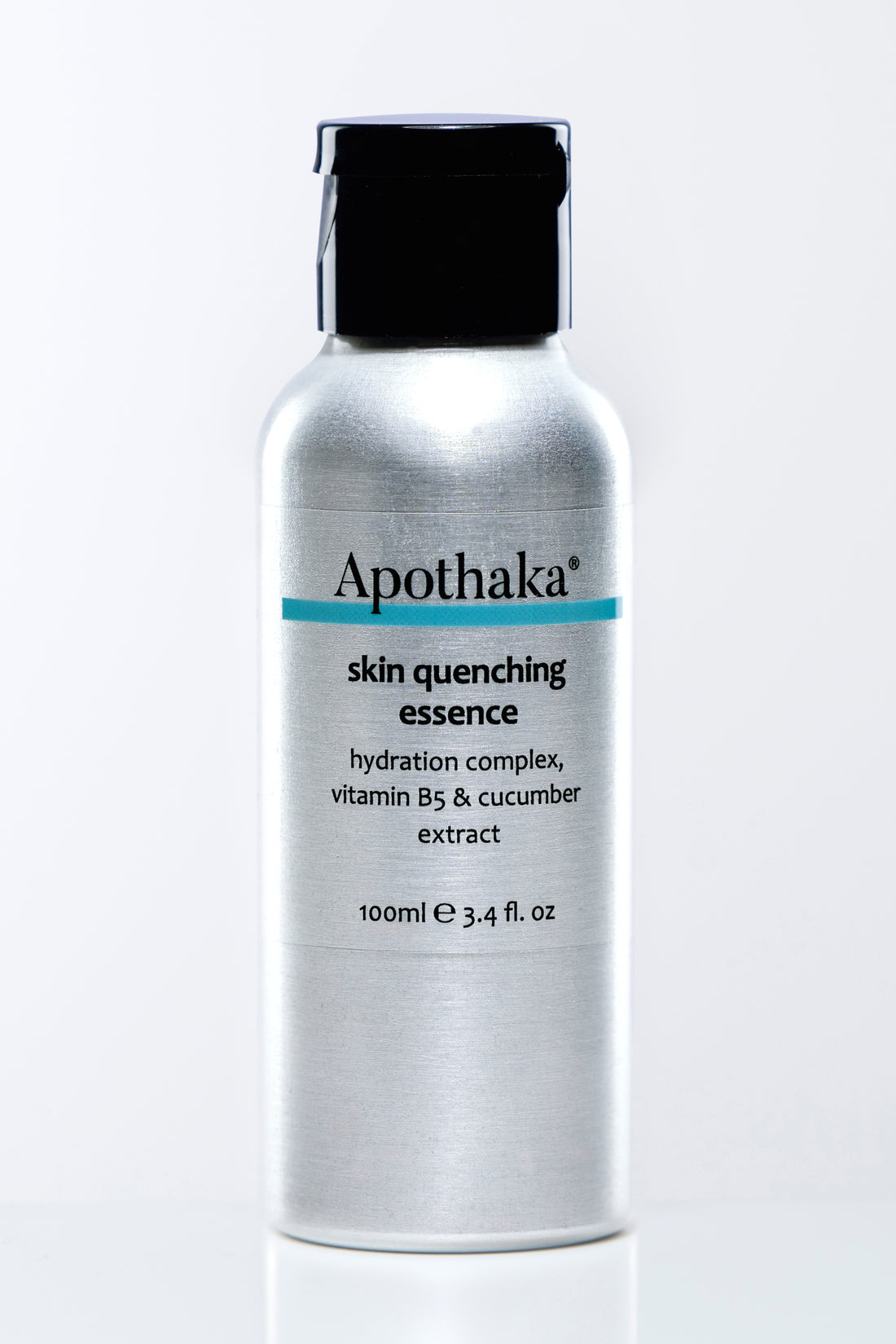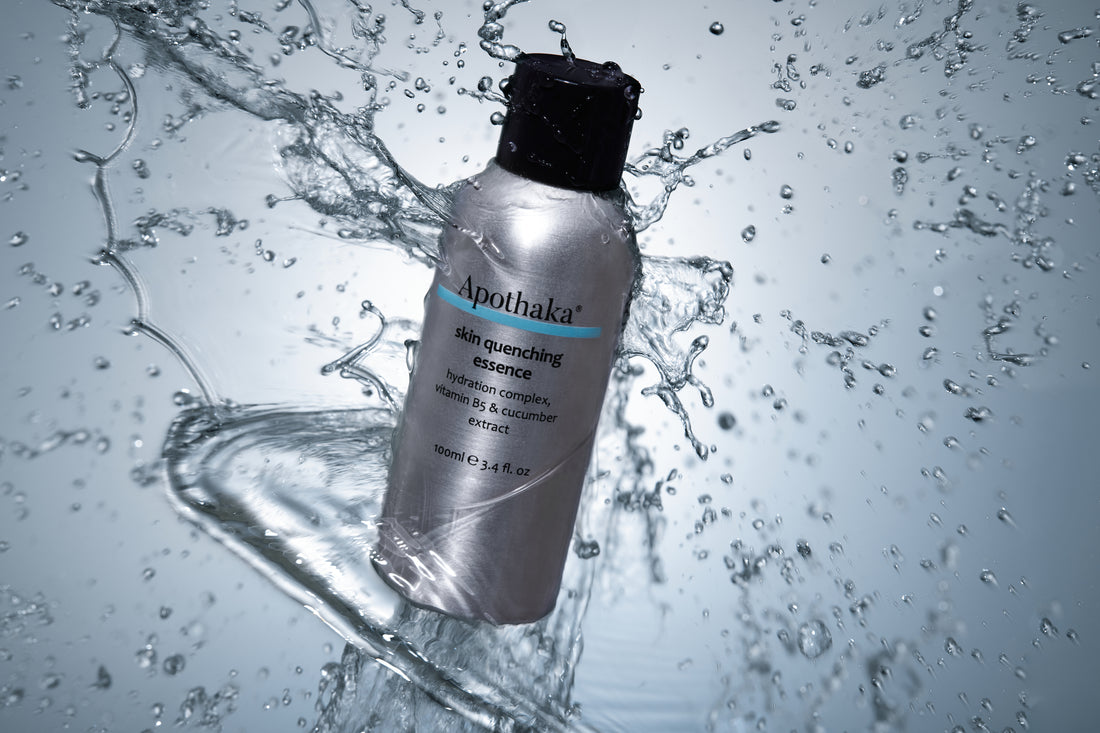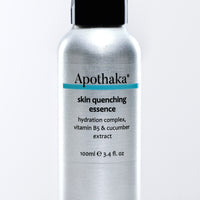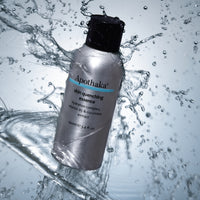 Quench thirsty skin with this skin drink featuring a winning combination of juicy humectants! Formulated to drench the skin with a lightweight layer of hydration and allow better application of subsequent skincare products, this refreshing and soothing essence calms and hydrates the skin with a synergistic blend of humectants which mimic the properties of the skin's own natural moisturising factor (NMF). These hydrating ingredients help support the skin's natural processes (skin barrier function, elasticity of the skin, facilitating desquamation) and can help to replenish the surface moisture level.
This is a slightly viscous liquid suitable for all skin types, especially those experiencing dehydration/tightness.
Skin type:  all skin types especially dehydrated skin
Skin goal:   hydration
Key ingredients:  NMF, panthenol (B5), cucumber extract
No added fragrance (you may detect a cucumber scent from the extract)
Presentation: Recyclable 100ml aluminium bottle with flip top lid (PP) for easy dispensing. Bottle and cap are accepted in kerbside recycling
Hydration complex (NMF): a synergistic blend of humectants which mimic the properties of the skin's own natural moisturising factor (NMF) which is responsible for keeping the skin hydrated and healthy
Vitamin B5 (panthenol): has been shown to assist epidermal barrier function by reducing water loss and increasing hydration, keeping the skin soft and pliable. It also offers a protective and anti-inflammatory effect
Cucumber extract: a skin conditioning ingredient which is naturally hydrating, owing to its high water content, cucumber extract also refreshes and soothes the skin
Water soluble shea butter: provides the emollient, moisturising & protective properties of shea butter, without the richness / heaviness or greasiness of the standard form
Formulated without added fragrance (some natural scent may be noticeable from the cucumber extract) or essential oils & alcohol. Suitable for all skin types, especially those with dehydrated skin.
pH: 5-5.5
Shake before use. After cleansing, dispense 4-6 drops of essence into the palm of your hand (don't waste this goodness on a cotton pad!) and apply to skin. If you're feeling extra, apply a second layer! Follow immediately with serum / moisturiser. Can be used morning & night, and under the eye area. Complete your daytime routine with a broad-spectrum sunscreen to protect your skin.
Store in a cool, dry place out of direct sunlight. For external use only. Keep out of the reach of children. Patch test first. As with all products, discontinue use if irritation occurs.
Once opened use within 12 months.
Aqua, Propanediol, Glycerin, Polysorbate 80, Shea Butter Glycereth-8 Esters, Panthenol, Cucumis Sativus (Cucumber) Fruit Extract, Sodium Lactate, Sodium PCA, Glycine, Fructose, Urea, Niacinamide, Inositol, Ethylhexylglycerin, Phenoxyethanol, Lactic Acid, Xanthan Gum, Acacia Senegal Gum, Citric Acid, Disodium EDTA
Vegan friendly. Read more about ingredients here and Apothaka's promise here.
Made in the UK
See here for latest delivery & returns info. I ship orders twice a week (Mondays & Thursdays, EU premium shipping on Mondays only). Outside of UK, UK VAT (20%) which is included in product prices shown, is automatically removed at checkout.
UK:
Standard: FREE (orders over £10) / £2.95 orders under £10 - usually 2-3 working days of order being despatched
Express: next day delivery - despatch ONLY on Monday & Thursdays
Local delivery: FREE in Berkhamsted
EU:
Premium tracked (DHL Connect): 7-10 days from despatch (orders shipped on Mondays currently only)
Orders are delivered on a tax paid basis with no further duties or fees to pay. See here for more info.
Rest of world:
Standard: 2-4 weeks of despatch date. **Allow up to 6 weeks during peak periods**
Express: 2-4 working days from despatch
Customers will be responsible for any payment of of any customs duties / taxes / associated fees. See here for more info
Please contact me at hello@apothaka.com if you have any other questions about shipping.
Step in routine
1
Cleanse
achieve a fresh canvas with our cleansers to remove make-up, sunscreen, grime & impurities
2
Hydrate
lightweight layers of hydration keep the skin looking and feeling healthy & plump
3
Treat / Boost
enhance your routine with targeted treatment products or boosters to tackle specific skin concerns
4
Moisturise
hydrate, replenish the water & lipid content of the skin for healthy, supple & comfortable skin
5
Sun Protection
a fundamental part of any daily skincare routine with a focus on healthy ageing: protect & prevent
WHY PEOPLE LOVE APOTHAKA
Thoughtful, No nonsense, Enjoyable, Inclusive